How to Send Emails from YOPMail Account
In our last tutorial, we went over how to "sign in" to YOPMail and check your inbox. I use quotation marks because there isn't actually a true registration or login for YOP mail. You can find out what I mean by that in detail by going to the previous post, but you'll probably be able to get the general idea from today's tutorial, too. Today, we're going to talk about how to send emails from a YOP mail disposable email address.
The most obvious way to use YOPMail is as a throwaway email address to use when you sign up on random websites that you don't want to give your real email to. This protects you from spam, having your information sold to third parties, etc.
Why send emails from a disposable email on YOPMail?
However, YOP mail isn't limited to that. Since it works more or less like any other email platform, you can also use it to send messages from an anonymous email account. The catch is, you can only send to other @yopmail.com email addresses, so both the sender and recipient have to agree to use YOP mail ahead of time.
There are many reasons why you might want to do this. For example, if you want to have a private email exchange that isn't associated with your personal information via your primary email account, you can arrange to do this in YOP mail. Another example would be if you are still getting to know a person you met online, but aren't ready to give them your real contact info just yet.
As with most things, there will be as many reasons as there are people using the service.
Whatever your reason is for wanting to send an email from a temporary email account, YOP mail is here to help. (Unless your reason is spamming or harassment, in which case, this will NOT work for you.)
Now, let's look at how to use a YOPMail disposable email address to send mail!
How to send email in YOPMail
Your first step is to "sign in" to the YOPemail address you want to send the message from. As we have explained in previous tutorials, this can be literally anything you make up on the spot, and no registration is required in order to use it. But, if you plan to use it more than once, it's a good idea to make it something you can remember easily.
Go to the yopmail.com home page, and when you've decided on a temporary email address, just type it into the yellow box in the upper left corner of the page.
In previous tutorials, I have used the address "any-temporary-email", so I'm going to continue with that one today. The only requirement is that it ends with "@yopmail.com". Once you have it typed in, click the "Check Inbox" button.
As you probably guessed, this will take you to the inbox for the email account you entered. Note that these accounts are not password-protected, so it's a good idea not to use them for anything too sensitive or personal. You'll see that I'm continuing to receive the email newsletter I signed up for in our first tutorial, which explains how YOPMail works in more detail.
Now, to send an email using this disposable email address, simply go to the toolbar at the top of the inbox, and click on the "Write" tab.
This will take you to a screen where you can compose the email you want to send, type in the recipient's email address, subject line, etc. It's very similar to any other email program you've used before.
I mentioned this in the introduction, but it bears repeating: you can ONLY use YOPMail to send emails to other YOPemail accounts. It says this next to the "To:" field, but it's easy to overlook. As you can see, whatever you type into the "To:" field is set to automatically be an @yopmail.com address, and there's no way to change this. Presumably, this is to prevent random people from using YOP's temporary email addresses to spam or harass other people in their primary accounts with impunity.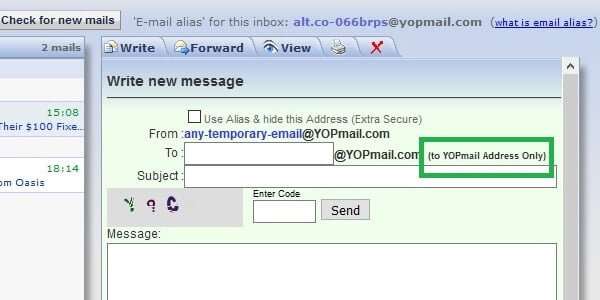 So, now all you have to do is type in the YOP mail address your friend or contact has decided to use, write a subject for the email, and compose your message. This part is pretty self-explanatory, and just like your regular email platform (Yahoo, Gmail, Hotmail, etc.).
Finally, before you can send your message, there is one last step that makes sending emails in YOP mail a bit different. You need to enter a verification code, basically a very simple captcha code. The point of this is to prove that you're human and not a bot that has been programmed to send tons of messages through the system. Basically, another measure used to prevent spam.
Read the code, type the characters into the appropriate field just as you see them, and then you are ready to click the "Send" button.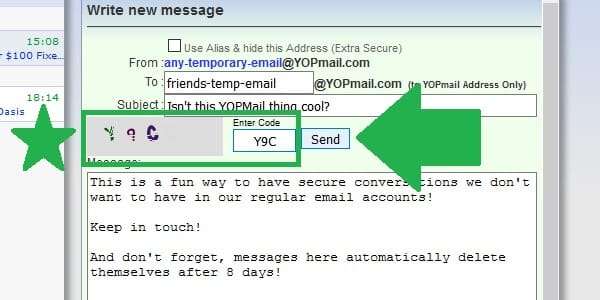 If the code was correct, your email will be sent and you should see a confirmation screen like the one below.
Verifying your email was sent through YOPMail
The cool thing about YOP compared to other email platforms is that you can go to your friend's YOP account and double check that the message you sent actually went through. Since none of the disposable email addresses here require registration and none of them have passwords, you can "sign in" to the other account just as easily as you did yours.
To do this, just go back to the yopmail.com home page, and repeat the "sign in" process you used before. Only this time, enter your recipient's YOPMail address instead of the one you used to send the email to them. Then, click the "Check Inbox" button, just like you did before.
Just like in the previous section, you'll be taken to the inbox view of the email account you entered. As you can see, the email that I send from "my" any-temporary-email account is here in the inbox of "their" friends-temp-email account.
When my "friend" accesses this account (following the exact same procedure), they will see it here as long as they check within 8 days of the email being sent. This is because all messages in YOPMail are automatically deleted after 8 days.
Likewise, when my "friend" reads my email in YOP, they will be able to reply back to me just like in any other email program. All they have to do is have the message open or selected, and click on the "Reply" tab.
So, as you can see, it isn't hard to send emails from a temporary email address using YOPMail. The only catch is that there are some restrictions on what you can do with it. But, if you want an anonymous way to have an email conversation with someone (i.e. not spamming or harassment), then this is a good option.
This was just a basic introduction to emailing using YOPMail. In our next tutorial, I'll talk about how to use some of the more advanced features, like the email alias you might have seen at the top of the inbox.